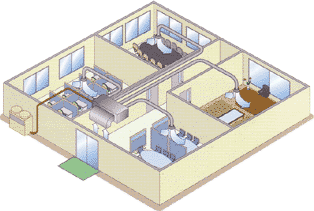 Air-Conditioning
It is often thought that air-conditioning is only necessary during the two hot weeks of an average British Summer! Even taking global warming into account, the benefits of good air-conditioning all year round are important. The comfort of your clients and staff will actually affect the bottom line of your business.
For example, in a hot and stuffy shop or restaurant, customers are more likely to spend less time on your premises and as a consequence will probably spend less money with you. Similarly staff may feel more lethargic and offer a lower level of service to your clients and, in office environments, concentration and decision-making abilities may also suffer.
Traditionally, we think of air-conditioning as the cooling down of room. However, modern air-conditioning solutions are really about providing and controlling a cleaner working environment and this will of course include heating as well.
Air-conditioning has become an important part of business life all year round and at Ryedale Refrigeration, we are experts in designing and providing the best solution for your organisation.
Ryedale Refrigeration
Ryedale Refrigeration design, source, resell, install, service and maintain all types of air conditioning systems and cover all aspects of the installation from electrical pipe work, duct work, duct work insulation, and minor building works. As long as there is a mains electrical supply in the building, Ryedale Refrigeration will take care of the rest!
We specialise in single room ventilation, air-conditioning for office suites over one complete floor through to multi-floor solutions and complete air-conditioning with independent controls for a whole building.
The type of equipment we can install is very comprehensive and includes:
Portable air-conditioning units
Split cooling only systems
Heat pump systems
Ducted and void system
Package units
Multi system
VRF systems
Our service teams assist our clients with any problems that may accrue with their air- conditioning systems and offer advice on how to ensure their systems work effectively.
We offer our clients planned maintenance contracts, tailored to their individual needs. Whether this involves two visits or more per annum, our maintenance contract customers receive preferential service when required.